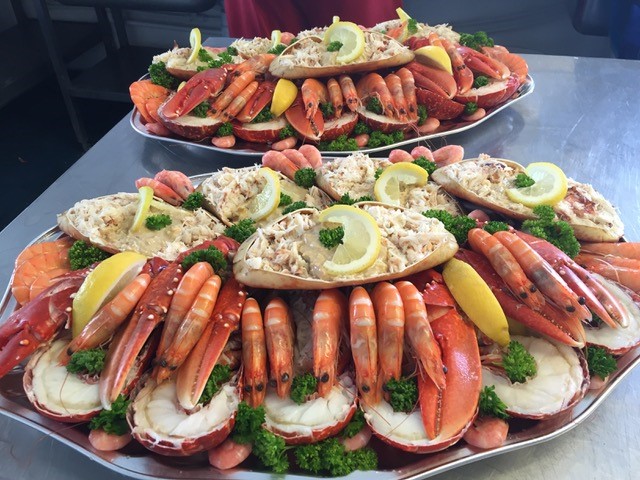 Above image courtesy of The Best Dressed Crab in Bembridge Harbour
Planning a day out on the water? Here's a few details of popular places to eat within easy reach of KB Dry Stack. And don't forget to check out our "Solent events Calendar".
Portsmouth Harbour
Salt Cafe - 01329 248609 - www.saltcafe.co.uk
Based at Wicormarine with great views of the harbour. Uses local suppliers,serves home made cakes and also has an alcohol license.
The Camber
The Bridge Tavern - 023 9275 2992 - Bridge Tavern
Now under new management and right by KB Dry Stack, this atmospheric dockside pub is fast gaining a reputation for good food, fine ales and excellent local fish dishes. Plenty of outside seating - a great way to end your day on the water!
Cowes
The Boat - www.theboatiow.com

The Solent's first luxury floating restaurant aboard a 34m fully refurbished yacht berthed in East Cowes - sailing to Gurnard or Osborne Bay.
Coast – 01983 298574 - www.thecoastbar.co.uk
Reservation recommended, very popular, great atmosphere.
North House– 01983 209453 - www.northhousecowes.co.uk
Grade ii listed town house.Great for a glass of wine on the terrace, good food in the restaurant..
Mojac's - 01983 281118 - www.mojacs.co.uk
Open Tues-Sat, highly recommended cosy atmosphere, great cocktails. Vegan and gluten free meals.
Call It What You Want - 01983 302666 - www.ciwyw.co.uk
Soul-food, no menu, just see what's being cooked.
The Harbour Kitchen – 01983 297559 - www.theharbourkitchen.co.uk
Opening hours 5 – 11pm. Good for a quick meal and reasonably priced.
Whippingham
The Folly Inn – 01983 297171 - The Folly Inn
Many outside tables, 15 mins up the river Medina past East Cowes, Open 11am to 11pm.
Yarmouth
The George Hotel – 01983 760331 - www.thegeorge.co.uk
Lovely setting, great for an alfresco lunch! Right on the waterfront.
The Terrace – 01983760331 – www.theterraceiow.co.uk
Harbour terrace, great views over the marina, full menu, new Castle terrace – bar menu, walk-ins
Salty's – 01983 761550 - www.saltysrestaurant.co.uk
Now under new ownership. Bar and long-table dining downstairs, with entertainment on Saturdays and formal dining upstairs.
Colwell Bay (Freshwater)
The Hut - 01983 898637 - reservations@thehutcolwell.co.uk
A great place on a summer's day. Call or wave for the tender to collect you! (booking essential)
Ventnor
The Crab Shed, Steephill Cove – 01983 855819 - www.steephillcove-isleofwight.co.uk
1 mile south of Ventnor, serves hot crab pasties and drinks. Open from Easter, no bookings taken. A short walk along the coast path unless you have your own tender and can anchor off the beach.
Bembridge
The Pilot Boat Inn – 01983 872077 - www.thepilotboatinn.com
The only pub on Bembridge Harbour and has just been refurbished. Includes the micro-brewery Wight Knuckle
The Best Dressed Crab – 01983 874758 - – www.thebestdressedcrabintown.co.uk
Enjoy sitting outside this excellent floating café on a sunny day - Great fresh local seafood
Duver Café – St Helens – 07780 666745
A great little waterside café with good coffee and cakes, as well as breakfast and lunches. Right next door to Steve's Bar, serving local beer, wine and spirits
Wooton Creek
The Fishbourne Inn – 01983 882823 - www.thefishbourne.co.uk
A short stroll up the hill for the view and plenty of outside seating.
Royal Victoria Yacht Club – 01983 882325 - www.rvyc.org.uk
Berthing available on their pontoons for a small charge.
The Sloop Inn – 01983 882544
Right up Wootton creek so keep an eye on the tide!
Seaview
Sea View Yacht Club - 01983 613268 - www.svyc.org.uk/page/visit
A warm welcome, excellent location and great food & drink from this newly refurbished yacht club. Check out the website for details of visitors moorings and launch boat service.
The Boathouse - 01983 810 606 - www.thenoathouseiow.co.uk
Beachside venue with AA dining awards for the last few years.
Hamble River
The Jolly Sailor - 02380 405557 - www.jollysailorburseldon.co.uk
Overlooking Hamble Marina with its own pontoons, plenty of space outsideand wooden beams and exposed brickwork inside, serving good food.
The Ketch Rigger - 02380 455601 - www.ketchrigger.co.uk
Situated in Hamble Point Marina just inside the entrance to the Hamble river. Open all day serving a good selection of seafood and traditional dishes.