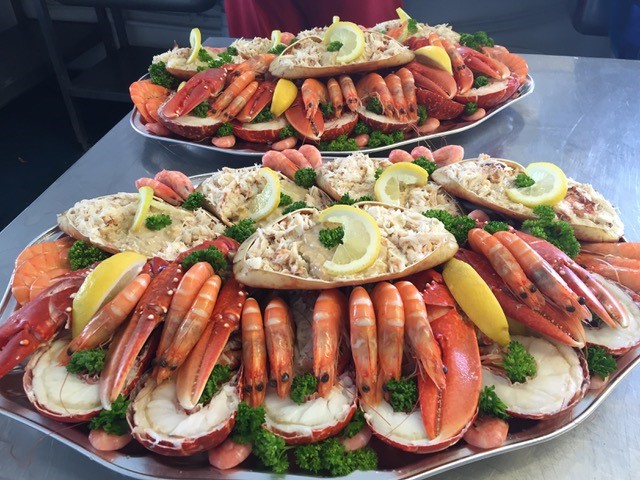 Above image courtesy of The Best Dressed Crab in Bembridge Harbour
Planning a day out on the water? Here's a few details of popular places to eat within easy reach of KB Dry Stack. And don't forget to check out our "Solent events Calendar".

The Camber
The Bridge Tavern - 023 9275 2992 - Bridge Tavern
Now under new management and right by KB Dry Stack, this atmospheric dockside pub is fast gaining a reputation for good food, fine ales and excellent local fish dishes. Plenty of outside seating - a great way to end your day on the water!
Cowes
Reservation recommended, very popular, great atmosphere.
Same owners as Coast, great for a glass of wine in the garden, good food in the restaurant.
Opening hours 5 – 11pm. Good for a quick meal and reasonably priced.
Tiffins – 01983 292310
Excellent range of baguettes and cakes.
Scandinavian style, cooking locally sourced fish and produce, sea view and just a short taxi ride from Cowes.

Whippingham
The Folly Inn – 01983 297171 - The Folly Inn
Many outside tables, 15 mins up the river Medina past East Cowes, Open 11am to 11pm.


Yarmouth
Lovely setting, great for an alfresco lunch!
Good reputation over many years, includes a bar and restaurant.


Colwell Bay (Freshwater)
A great place on a summer's day. Call or wave for the tender to collect you! (booking essential)
Ventnor
1 mile south of Ventnor, serves hot crab pasties and drinks.
Open from Easter, no bookings taken. A short walk along the coast path unless you have your own tender and can anchor off the beach.
Bembridge
The only pub on Bembridge Harbour and has just been refurbished.
Enjoy sitting outside this excellent floating café on a sunny day - Great fresh local seafood!


Short taxi ride from Bembridge Harbour, all seating is outside right next to the beach but no reservations taken.


Duver Café – St Helens – 07780 666745
A great little waterside café with good coffee and cakes, as well as breakfast and lunches.
Wooton Creek
A short stroll up the hill for the view and plenty of outside seating.
Royal Victoria Yacht Club – 01983 882325 - www.rvyc.org.uk
Berthing available on their pontoons for a small charge.
The Sloop Inn – 01983 882544
Right up Wootton creek so keep an eye on the tide!